Rabbi Aryeh Lebowitz Appointed to Faculty at Beis Medrash L'Talmud-Lander College for Men
Date: December 09, 2015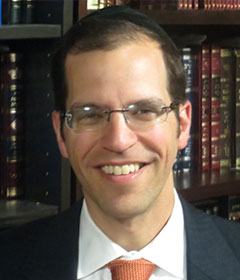 Rabbi Aryeh Lebowitz
New York, N.Y. – Rabbi Aryeh Lebowitz was named senior Magid Shiur at Beis Medrash L'Talmud-Lander College for Men, Dr. Alan Kadish, Touro's President announced today.
"Rabbi Lebowitz is an outstanding Torah scholar and leader and we're pleased to have him join our distinguished rabbinic faculty. We know he will contribute greatly to our dynamic and growing Beis Medrash," said Dr. Kadish.
Rabbi Lebowitz studied at Rabbi Isaac Elchanan Theological Seminary and received his semicha from Rav Zalman Nechemya Goldberg. He currently serves as the Mara D'Asra of Beis Haknesses of North Woodmere, a position he has held since its founding in 2004. He is a Rebbe at the Davis Renov Stahler (DRS) Yeshiva High School in Woodmere as well as Magid Shiur and program director of Yeshivat Lev Shlomo, the post-high school Beis Medrash program affiliated with the Hebrew Academy of Long Beach.
"We take great pride in appointing Rabbi Lebowitz as a full time member of the esteemed rabbinic faculty of Beis Medrash L'Talmud ‐ Lander College for Men," said HaRav Yonason Sacks, Rosh HaYeshiva. "As an accomplished Talmid Chacham and admired communal rabbinic leader, we are confident that he will add immeasurably to the scholarship and excellence of our Yeshiva."
Rabbi Lebowitz is an alumnus of Yeshivat Kerem B'Yavneh and the Sy Syms School of Business. He has published numerous articles on practical Halacha in various journals, including the Journal of Halacha and Contemporary Society. His thousands of recorded Shiurim on Halacha, Gemara and Derush have gained widespread popularity. Prior to establishing the Beis Haknesses of North Woodmere, Rabbi Lebowitz served as Assistant Rabbi at Congregation Shaaray Tefilah in Lawrence for three years, where he headed the morning Kollel. Rabbi Lebowitz and his wife, Elana, are the proud parents of Yonah, Yisroel, Zecharia, Daniel and Chani.
"It is very exciting to join Beis Medrash L'Talmud-Lander College for Men, a rapidly growing Makom Torah, whose students will be leaders in the Torah community for many years to come. I look forward to working with the fantastic team of Rebbeim and Magidei Siur, under the leadership of HaRav Yonason Sacks Shlita, to help our students continue to grow in Torah learning and become the type of people who will have a deep, positive and lasting impact on the future of Klal Yisrael."
According to Dr. Moshe Sokol, dean of Touro's Lander College for Men, "Rabbi Lebowitz has already established a reputation as one of America's star high school Rebbeim, as an outstanding Shul Rav and as a Maggid Shiur for thousands through his widespread Shiurim. He will now have the opportunity to educate and influence older students, who have returned from studying in Israel, and thereby help shape a new generation of sophisticated, college –educated young men, future leaders of the Jewish community."
The Lander College for Men is an undergraduate division of Touro College, in service to the Jewish community. Established in the fall of 2000 and located in Queens, N.Y., the Lander College for Men is grounded in a dual curriculum of intensive Torah study and a wide range of academic programs, and students major in professionally oriented disciplines. Lander College for Men provides students with an environment that produces ethical, mature, and well-rounded professionals committed to scholarship and career growth. Dedicated to Touro's mission of perpetuating the Jewish heritage, Lander College for Men prepares students to uphold the ideals of Torah and pursue positions of professional and communal leadership.
About the Touro College and University System
Touro is a system of non-profit institutions of higher and professional education. Touro College was chartered in 1970 primarily to enrich the Jewish heritage, and to serve the larger American and global community. Approximately 19,000 students are currently enrolled in its various schools and divisions. Touro College has branch campuses, locations and instructional sites in the New York area, as well as branch campuses and programs in Berlin, Jerusalem, Moscow, Paris and Florida. New York Medical College, Touro University California and its Nevada branch campus, as well as Touro University Worldwide and its Touro College Los Angeles division are separately accredited institutions within the Touro College and University System. For further information on Touro College, please go to: http://www.touro.edu/media/.