Banking on His Future
Lander Alum Jason Appleson Blends Faith and Finance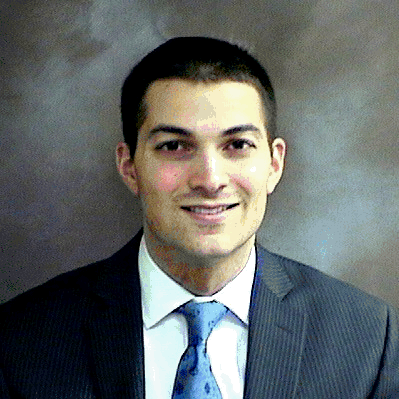 Jason Appleson's path to the Federal Reserve Bank of New York (FRBNY) was anything but automatic. Born in Nashville, the 2008 Lander College for Men Finance grad moved to Cincinnati and then Chicago throughout his youth before finally arriving in NYC to attend Touro. All that transplantation to different territories, particularly as an Orthodox Jew, was "an interesting experience," Appleson concedes.
But once he arrived at Touro, his goals began to crystallize. Not even five years removed from earning his B.S., Appleson is steadily employed as an FRBNY credit risk associate, which involves applying a relatively new advent called "stress tests" to large investments banks—or hypothetically adverse economic scenarios in order to gauge their readiness to ensure financial stability. In other words, Appleson is one of many FRBNY CFAs (Chartered Financial Analyst) who help keep financial institutions honest, which is no slight task in the wake of their recent economic turbulence.
In the midst of a busy work day at his Manhattan office, the current Queens resident explains how he discovered his calling, what average Americans can do to safeguard their investments and why faith has been the driving force behind his life and career.
Touro: When did you realize that finance would best utilize your skillset?
Jason Appelson: Basically, my brother did accounting, he hated it. My sister did marketing, she couldn't find a job. I knew I wanted to go into business from working odd jobs over the summer, so by process of elimination, it's finance.
Touro: And has your career so far harnessed all the knowledge and instincts you developed in school?
JA: Once I chose finance, I was very happy with my decision, or else I would have probably stopped. I spent a year at Yeshiva University before I went to Touro, and found the programs on par with each other. When I entered the financial field, I was working with some people from Ivy League schools, who I felt more or less had similar backgrounds, and I was able to keep up..
Touro: So in your personal opinion, understanding it's not a reflection of the FRBNY's, how did we get in this economic mess and how can we get ourselves out?
JA: Risk-taking continued to rise with certain assumptions [banks] had based on historical information. But when those assumptions didn't pan out, everyone holding their securities and derivatives related to those securities suffered severe stress. So being able to understand how those securities can move up or down in times of severe stress can hopefully prevent another crisis like that from happening again.
Touro: Best you can tell, are the banks cooperating in a meaningful way in these stress tests?
JA: Obviously, banks have an interest to make money, and we have an interest to regulate the risk, so at times, we're at cross-purposes. But banks are very cooperative in general, and they do understand the need for regulation and have embraced some of the processes, including stress testing.
Touro: Have you been able to balance your Jewish observance with the demands of working in finance?
JA: I still try and find time to learn and study Jewish studies while I'm working, and continue to study for career certification. I'm going to enroll in graduate school for business next year as well, and while I think it's important to look forward in your career, for me, one of my personal objectives was to also maintain my Judaism and continue to grow in Judaism. On Thursday nights, I'm still learning at Lander College with one of the rabbis. It's a, "Do you live to work or work to live?" kind of thing, but understanding who you are and where you come from is something that defines your work practices and your accomplishments.
Touro: And what was the biggest challenge in earning your CFA?
JA: It was really time management, because there's such a large commitment to studying. One way in which Lander prepared me to do that was the long schedule you have, where you start with [beis medrash] learning in the morning and you take your college classes in the afternoon. So I was used to long days and finding the time to do homework and take tests.