Serving Clients Through 'Honesty and Integrity'
For Lander College for Men Alum, Patience is Key to Success in Financial Planning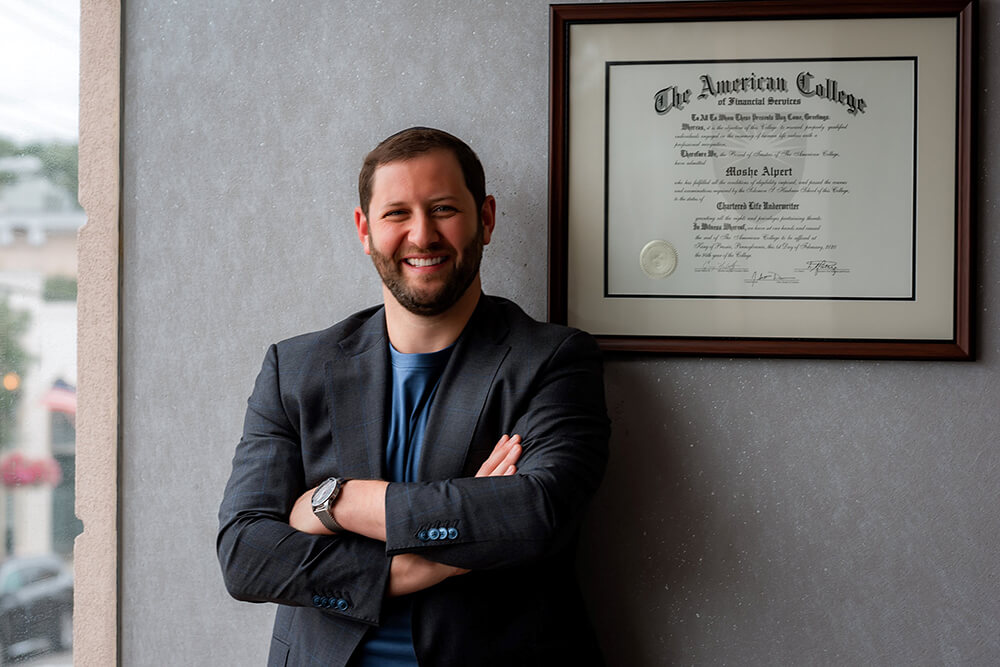 Moshe Alpert
Moshe Alpert, Lander College for Men (LCM) '16, is a Certified Financial Planner and Wealth Management Advisor at Northwestern Mutual. Moshe discusses why he loves the financial industry, and the importance of building trust with his clients, as well as how Touro prepared him for his career and helped him land his first job.
Can you tell us a little about what you do?
I'm a Certified Financial Planner and a Wealth Management Advisor—that's my long title—and I've been doing this for almost 10 years; I graduated from Touro in 2016, and I was an intern for a while. My job is to do financial planning for clients, all the way from budgeting to planning estates. The typical products that I work with are managing people's money through investments and managing risk, and covering insurance needs with life, disability, and long-term care. I also have a consulting practice where I don't necessarily recommend any products, I just do financial consulting for people who need financial planning.
How did you decide on this career path?
I really enjoy the field of finance and I also like working with people. So for me, taking the knowledge of finance—the problem-solving, critical thinking, and all that goes into the financial world—and applying it to people's lives is a winning combination.
How did you get your start?
I actually I went to Touro's career fair. I wasn't sure exactly what I wanted to do at that point and I interviewed with about 20 companies. There were two companies that I went to for a second interview, but I decided to work for Northwestern Mutual, and the rest is history. I've been here since then.
What are some of the biggest challenges in your line of work?
I would say the most difficult challenge is for people to trust a financial planner. Trust is a very big challenge, because you're dealing with people's money and their family's future. They have to decide to commit to a financial planner to work for them. It's challenging for me. It's challenging for them.
How do you build that trust?
You have to be honest and operate with integrity, and you also have to have a lot of patience. You can't be overly aggressive; you have to let people think things over. I wouldn't say the challenge is getting clients, it's more about how quickly they decide to trust you. So you need a lot of patience and a commitment to continue doing what's best for them and have confidence in what you think is best for them, and hopefully, they commit to working with you.
On the flip side, what's the most rewarding part of your job?
The most rewarding part of my job is when a solution that I give really helps someone. And this is from people or businesses that are in a lot of debt, all the way to people that just want to maximize their money in the best way. It's amazing what knowledge can really do for that person. It gives them peace of mind. So when you implement a strategy that really helps someone, it's extremely rewarding.
Beyond the career fair you talked about, how did the education you got from Lander help get you where you are?
I think I benefited a lot from the finance program—from Dr. [Kenneth] Bigel, the way he ran the department, his classes, and the professors that I had. And at Northwestern I got credits for the internship that I took at Touro.
I got a solid education from Touro. I learned concepts that were relevant to my job in the finance major.
Also, Lander had the uncanny ability to give both an excellent education, and a top-of-the-line learning program. I grew tremendously from the Rosh HaYeshiva, Rabbi [Yonason] Sacks and his shiurim. It was truly a special experience, the best spiritual atmosphere for a college education.
What would you tell Touro students who are who are looking to get into finance?
I would tell them that it's a great field. You should take your studies seriously. It'll help you in the long run. And the financial field can be extremely profitable and also fulfilling. Helping people achieve their personal financial or business goals is a great feeling.
What's your family life like? What do you do in your spare time?
I live in Far Rockaway (my office is in Cedarhurst), and thank G-d, I have a wife and I have five kids. And in my spare time…
Wait, you're a financial planner with five kids and you have spare time?
Ha, yes. I love playing sports. I play basketball, baseball, and racquetball. I also really enjoy playing guitar.