Student Spotlight: Staining Slides and Learning Daf Yomi
Lander College for Men Student Neema Soleimani Excels in Biology Major and Yeshiva Studies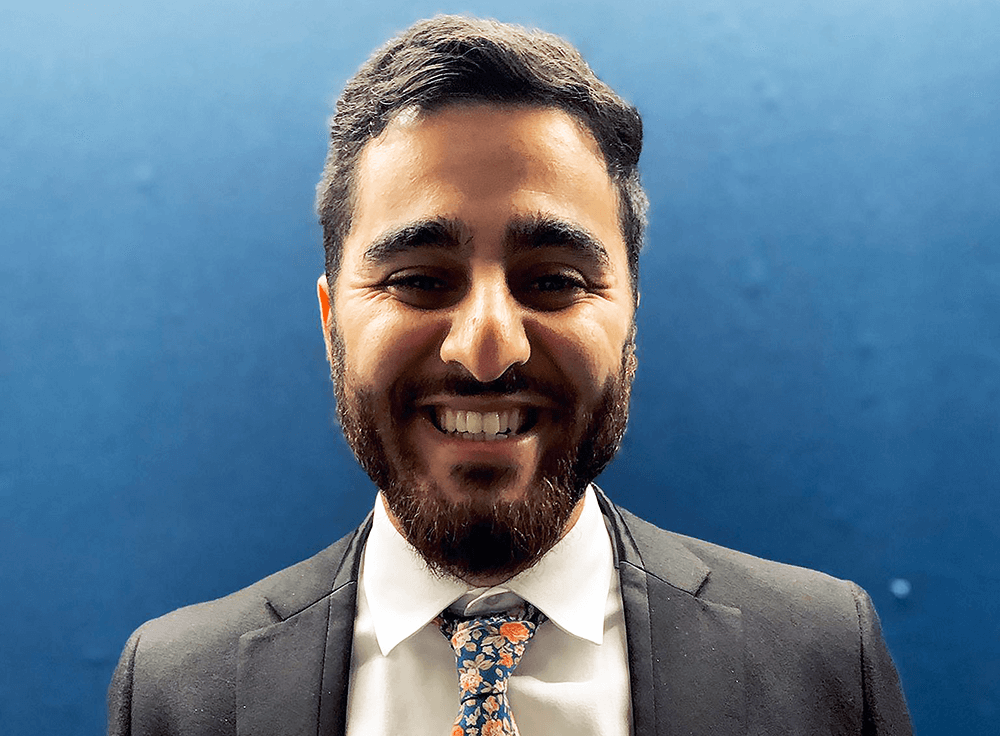 Neema Soleimani
Pre-med student Neema Soleimani shares how his religious observance has evolved over time, his life at Lander today, and his future career as a doctor.
Can you share a bit about your background — where did you grow up and what were your interests?
I was born and raised in Beverly Hills, CA, in the public school system. I began my greater observance of Judaism in high school and then in Israel, while studying in Ohr Somayach by the Derech program. I then began studying in Yeshiva Gedolah of Greater Washington before coming to Lander College for Men. I have been here ever since.
Growing up, I was a part of the elementary school choir, but my heart was really with playing the violin. I played for nine years total in the school orchestra. I had fun in photography and art electives at different points, while running track and cross country as a distance runner. Running feels like a punishment for most, but it's really a time for me to relax! Student government and Jewish club involvement were always part of my schedule.
What is your ultimate career path and why did you choose it?
My career path I've chosen is to be a doctor. I find myself the most gratified when giving of myself or my time to relate to others, and even more so to improve someone else's life or time. I feel being a doctor emphasizes the qualities that I have, and therefore will be fulfilling with the work I'm doing.
Can you describe your involvement in any clubs, activities or volunteer work while at Lander?
I am involved with the SGO (Student Government Organization), where I plan and execute events for students regarding both the College and the Yeshiva. I joined the biology clubs that pertain to my major where, for example, we have talks with professors or school officials about the process of becoming a doctor or what their job entails with their field of study. I work on the weekend for Hand In Hands, where I'm blessed to spend time with a young boy named Chanoch.
I am lucky enough to be one of the general chemistry lab assistants that set up and clean lab every week, while helping during lab hours. I have volunteered for Rafi Bienenstock and Tzvi Greenberg, who have been running "Gift of Life" drives on campus, where we swabbed people's mouths for blood types.
My summer research consisted of blood processing for DNA and RNA, preparing microscope slides, staining slides and cell culture of breast cancer cells at the Cancer Research Institute of St John's Medical in Los Angeles. This semester, I've had the honor of not only joining the Mashgiach, Rabbi Moshe Bamberger, in Daf Yomi learning, but also being instrumental in running the learning and seeing the group grow between different masechtas.
Why did you choose Lander and how is the school helping prepare you to achieve your goals?
I chose LCM for the reputation of its pre-med track, in addition to the Jewish environment. It did not disappoint. Alongside the push for academic greatness is the time here that provides a Yeshiva and Jewish atmosphere for all kinds of Jewish observance. What's unique to LCM is the intimacy in size and connection between the student body with one another and the staff behind the school. Also, they really go out of their way to provide any classes or activities the students desire, along with making sure Jewish life, like Shabbat meals and holidays, are celebrated and enjoyable.
The Yeshiva provides the support system for growth and connection just as amazingly as the College provides proper guidance and support that will carry out beyond the walls of Lander College. I can learn and daven multiple times a day in conjunction with a work schedule, and it's not a contradiction. I have been able to work toward a college degree in biology, while still implementing my beliefs and growing as a person at my own level and time, with tremendous support and push to be the greatest I can be in both parts of my future.