The Path to Med School Begins at Touro
From the Classroom to the Laboratory, Future Doctor Benefits from Pathway Programs at Touro's Lander College for Men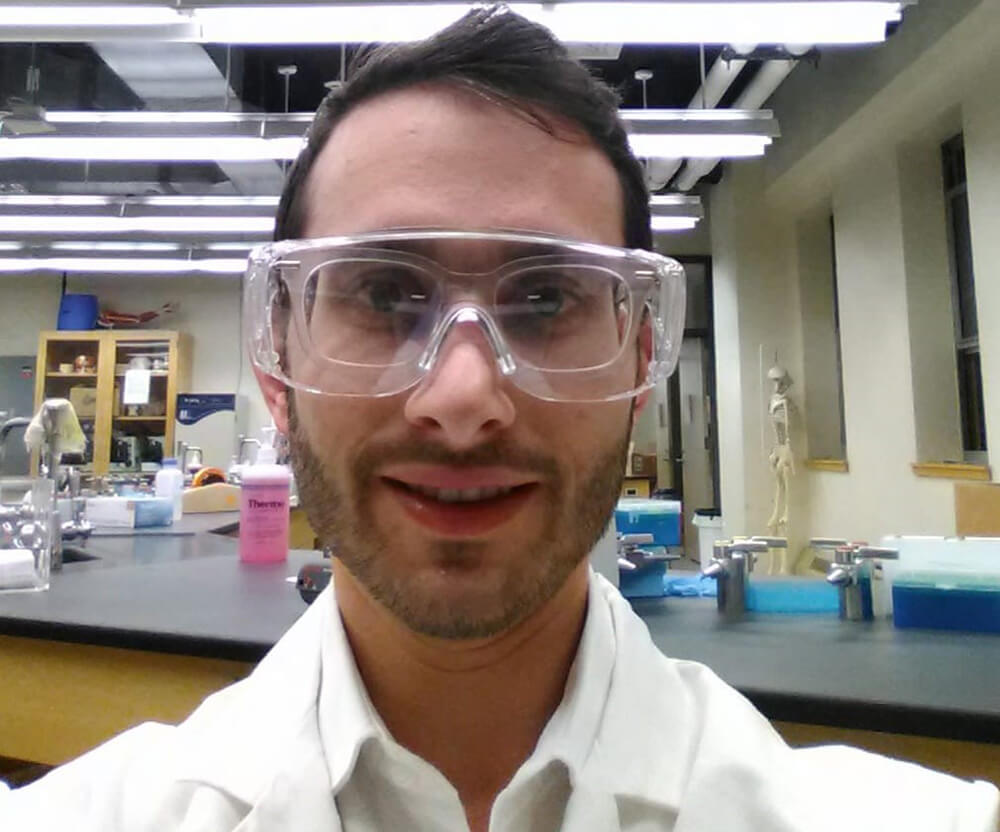 Zvi Goldman in the research lab at Lander College for Men
Zvi Goldman discusses the potentially life-changing research he is collaborating on and the many opportunities at Lander College for Men (LCM) that are ensuring he is well-prepared for medical school and, ultimately, a career in medicine.
Why did you choose medicine as your career path?
I was a 14-year-old yeshiva boy with no secular education to my name, but with a curious affinity for textbooks, encyclopedias and medical dictionaries. Perhaps it was that, that emboldened me to tutor my aunt in her college chemistry class. To my delight, she rewarded me with the thick chemistry textbook, and a life-long love was born. Several years ago, while snorkeling in Palau (a breathtaking island in Micronesia), I was getting a little cozy with a jellyfish, and the guide told me, "Be careful. We don't have a hospital here." This was an entire country with no proper healthcare! I experienced the universal need for medical attention and the devastating effects of its absence, and I wanted to be the one to deliver it.
How is Touro helping prepare you to achieve your goal?
I was drawn to Touro because of their Medical Honors Pathway, a unique program specifically engineered toward a career in medicine. Medical schools are highly competitive. Through this program, Touro pre-med students are given preferential consideration at New York Medical College if they meet the rigorous curriculum and extra-curricular requirements.
Touro also provides the ease of maintaining a frum lifestyle while in college. There is nothing quite like having off for Shabbos and Yom Tov!
You're currently working with Touro Professor Yaakov Peter on a research project. What are you studying?
Our laboratory studies Crohn's disease and lung cancer. Currently, we are focusing on the biological markers of squamous cell and adenocarcinoma. In simple terms, we compare the gene expression of lung cancer cells to cells of smokers and non-smokers. This involves culturing lung tissue and receiving patient samples for experimentation and analysis. We are fortunate to have ongoing collaborations with several prestigious medical schools and hospital systems.
Can you describe the experience working in the lab, teaming up with Professor Peter and conducting research?
I am so grateful to have someone as esteemed, intelligent and humble as Dr. Peter as a mentor. His wisdom and wit guide our small but powerful team in the laboratory, and he breaks down the daunting process of research into bite-size, manageable steps. A special shout-out goes to our talented lab technician, Ms. Olsida Zefi, who has patiently and generously offered her extensive knowledge and expertise of lab procedure. After many long hours, days and months in the lab, we're excited to be on the brink of some incredible breakthroughs.
What impact do you think the research will ultimately have on people's lives?
This may sound like hyperbole, but the ramifications of our research are potentially life-changing. Lung cancer is one of the deadliest, largely due to the lack of early detection. The more we learn about it, the more possibility we create for earlier diagnosis. Increasing our understanding also increases opportunity for intervention and ultimately prevention.
What advice do you have for other students planning to go to med school?
As a child, I thought anyone who wanted to be a doctor could walk into medical school, but nothing could be further from the truth. The pre-med track is extremely competitive, and for good reason — lives are at stake! It's not enough to excel in your coursework and ace your MCAT; you've got to excel in your own distinct way. There are no shortcuts here. Getting to medical school takes ceaseless initiative, proactivity and self-motivation.