Simcha Himmel Named Valedictorian of Lander College for Men
Date: May 28, 2015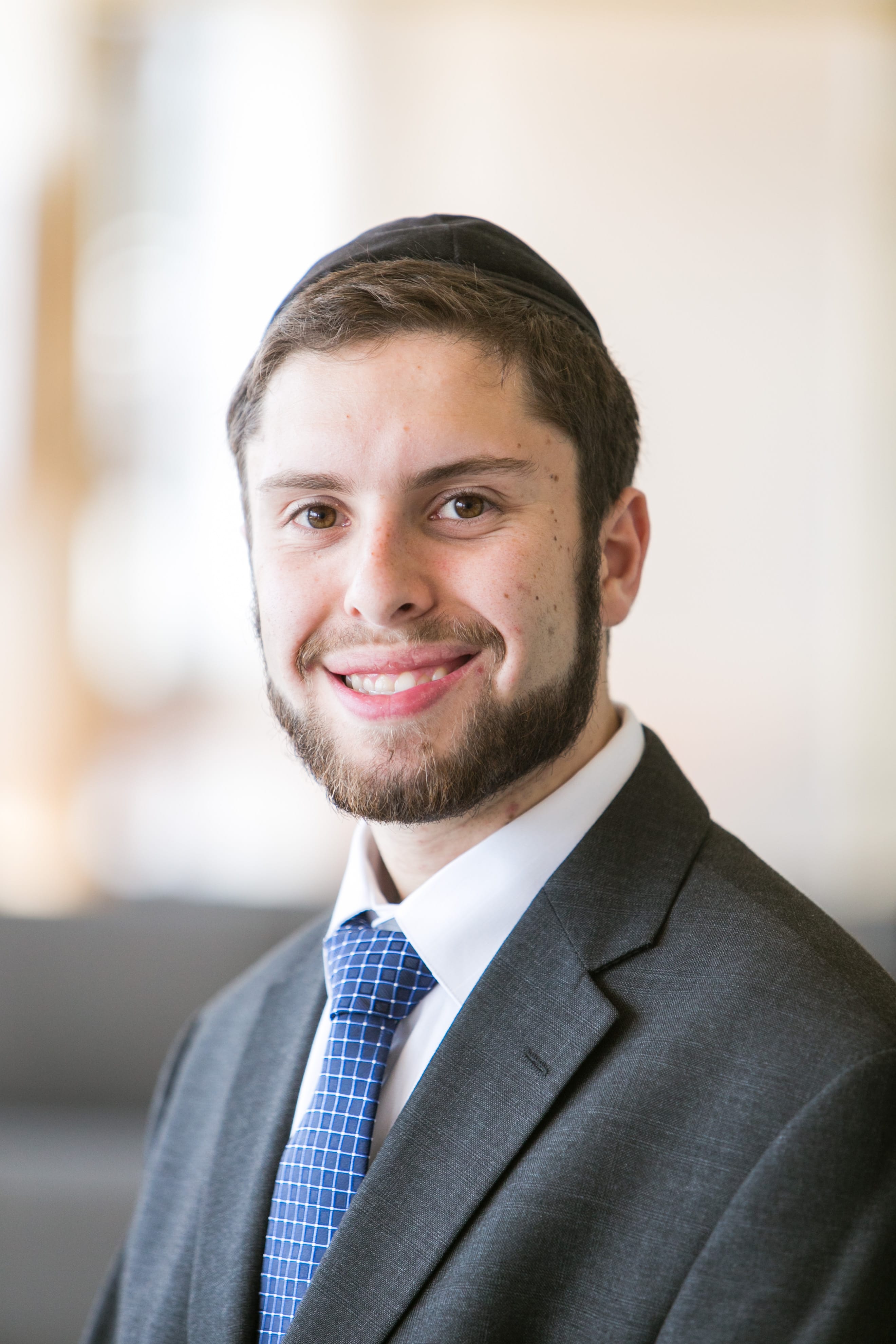 Simcha Himmel of Highland Park, N.J., 2015 valedictorian of the Lander College for Men-Beis Medrash L'Talmud
New York, N.Y. – As far back as high school Simcha Himmel knew he wanted to pursue a career in marketing. He was fascinated by the approach companies utilized to gain brand recognition.
"I've always found the strategic side of business and marketing interesting," he said. "Companies like Apple and Starbucks created brands that have become powerful icons, and everyone is walking around wearing five or six logos."
Simcha's passion and drive to succeed served him well. He was named the 2015 valedictorian of the Lander College for Men-Beis Medrash L'Talmud (LCM) and will address his fellow graduates at the 41st commencement exercises of the Lander Colleges at Avery Fisher Hall.
The resident of Highland Park, New Jersey was president of the student government during his junior year. A marketing management major, he graduated with a 4.0 grade point average for the LCM Honors Division and made the dean's list each semester. He belongs to Sigma Beta Delta and Omicron Delta Epsilon, the international honors societies for business, management and administration, and for economics, respectively, and was president of the Lander Investment Group club. At commencement he will be presented with the Lander College Marketing Award.
"Simcha is an extraordinary young man. How many students can manage to maintain a 4.0 GPA in Lander's rigorous program, learn as a stalwart in the beis medrash, while also serving as president of the student government?" asked Dr. Moshe Sokol, dean of LCM. "I expect that Simcha's drive and multiple talents will catapult him not only to professional success, but to leadership positions in the Jewish community."
Simcha credits the LCM curriculum for providing him with the skills to succeed in the industry. His first experience in the field—an internship in the marketing department of the National Council of Synagogue Youth (NCSY)—was born of another LCM initiative, a career night in which alumni return to campus to give professional advice to current students. Simcha approached an alumnus after hearing him describe his role as the director of marketing for NCSY. The conversation led to an internship in which Simcha helped produce the organization's semi-annual magazine, drafted press releases, monitored social media and managed the back-end of the website.
"In school I really enjoyed how the classes included projects to simulate running a campaign and branding projects to simulate marketing activities," he said. "The internship was my first real exposure to actualizing what I had learned in theory."
Originally from Silver Spring, Maryland, Simcha's family moved to New Jersey when he was ten. His older brother had graduated from Touro and Simcha decided to attend LCM partly because of the small student-to-teacher ratio, and so he wouldn't miss classes or tests during Jewish holidays. He soon learned that there was more to LCM than a flexible schedule.
"What I found from the very beginning was the warmth of the community," he said. "Even though there's a lot of diversity it was a very close-knit group and it felt like a family environment."
Simcha finished his classwork last summer and has spent most of the past year learning in Yeshivas Bircas HaTorah in Jerusalem. Citing his father's influence, Simcha is an avid Yankees fan, but he deferred to his DC-area origins by supporting the Washington Capitals instead of his dad's beloved New York Islanders.
"The Yankees won four titles when I was a kid but the Islanders weren't that good, so I figured I could at least root for my home team."
The Lander College for Men is an undergraduate division of Touro College, in service to the Jewish community. Established in the fall of 2000 and located in Queens, N.Y., the Lander College for Men is grounded in a dual curriculum of intensive Torah study and a wide range of academic programs, and students major in professionally oriented disciplines. Lander College for Men provides students with an environment that produces ethical, mature, and well-rounded professionals committed to scholarship and career growth. Dedicated to Touro's mission of perpetuating the Jewish heritage, Lander College for Men prepares students to uphold the ideals of Torah and pursue positions of professional and communal leadership.
About the Touro College and University System
Touro is a system of non-profit institutions of higher and professional education. Touro College was chartered in 1970 primarily to enrich the Jewish heritage, and to serve the larger American and global community. Approximately 19,000 students are currently enrolled in its various schools and divisions. Touro College has branch campuses, locations and instructional sites in the New York area, as well as branch campuses and programs in Berlin, Jerusalem, Moscow, Paris and Florida. New York Medical College, Touro University California and its Nevada branch campus, as well as Touro University Worldwide and its Touro College Los Angeles division are separately accredited institutions within the Touro College and University System. For further information on Touro College, please go to: http://www.touro.edu/#/news/.