A Passion for Performing
Lander College for Men Student Balances Music, Torah Study and Psychology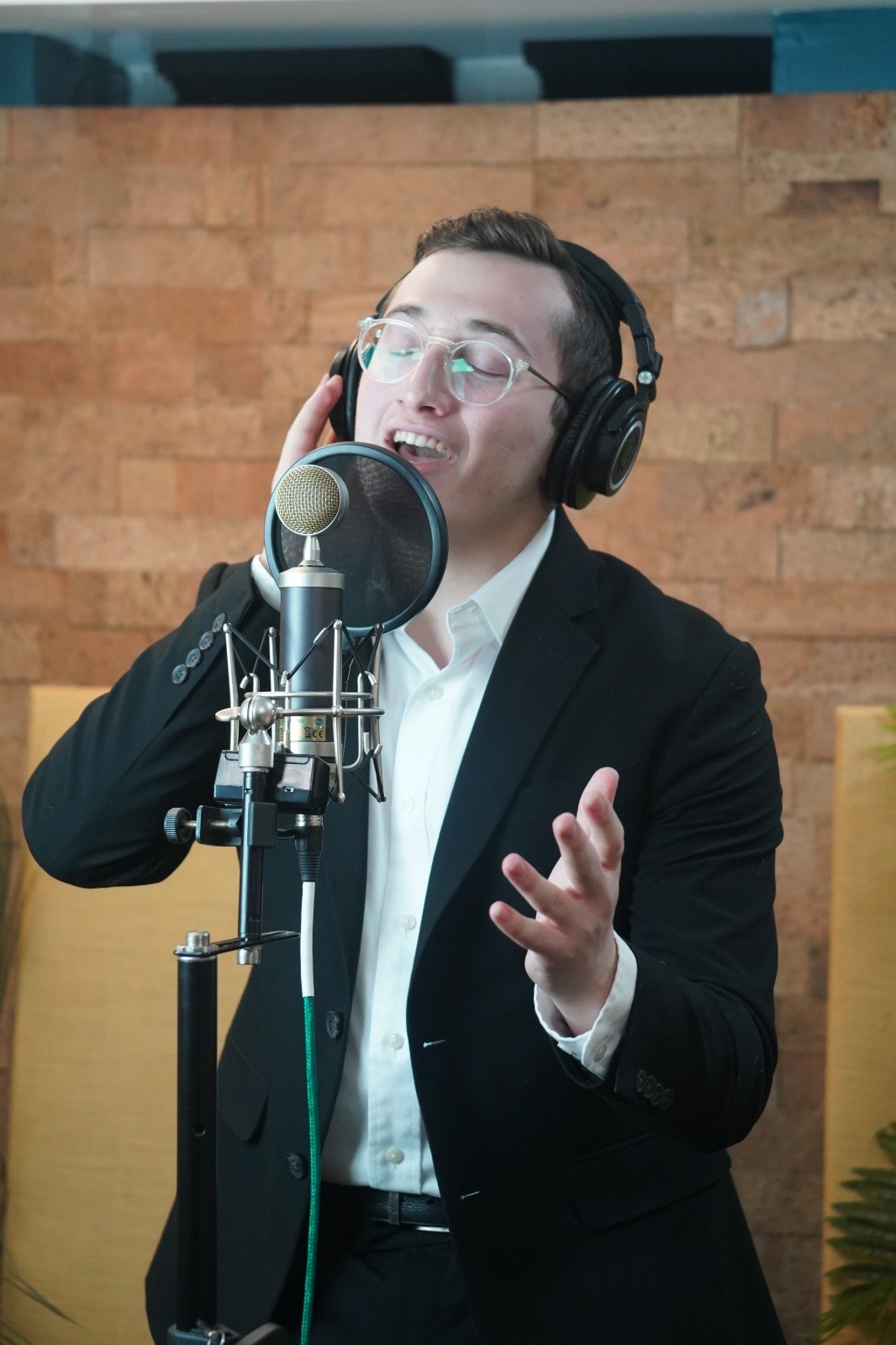 Dovid Pearlman, Lander College for Men student, began his musical career at age eight, released his first solo album at 14 and his second album last year. Pearlman talks about his passion for music and helping others become their best selves and how he hopes to merge psychology and music in his professional career. He also shares how Lander is impacting his life and helping put him on the path to success.
You've been singing on stage since middle school and later on, released an album and hit singles and performed all around the world. How did your passion for singing begin?
I've been surrounded by music my whole life. I come from a long line of professional singers, dating back to my great-great-grandfather, who had his first official cantorial position when he was 13. It's a tradition that was passed down from generation to generation in my family and I have witnessed firsthand the beauty of singing and its power to bring joy, which my grandfather and father shared with me. Whether it was standing at my grandfather's side in synagogue as he led the prayer service, or joining my father for a weekend Bar Mitzvah with his acapella group, "The Shabbatones" there was no shortage of opportunities for me to sing as a child.
My parents played a crucial role in helping me develop my musical abilities. When they noticed my interest in performing, they encouraged me to join the Miami Boys Choir, dedicating countless hours to carpooling me from practices to concerts. They even went the extra mile by joining me on tour and supporting my decision to continue pursuing my passion for music these past few years.
What keeps you writing songs and performing?
As a songwriter, I often find that my songwriting process lacks structure, with melodies often popping into my mind at unexpected times. I jokingly refer to this as "Shabbos Songwriting Syndrome," where I come up with melodies on the weekend and by the time I'm able to record them, I've already forgotten them.
My uncle, of blessed memory, was a significant influence on my love for music and songwriting. He was an alum of the Miami Boys Choir and also went to Lander College for Men. He accomplished a great deal in his short 19 years of life. He shared his voice through singing and songwriting and his compositions continue to be remembered and loved. One of his songs, "Hamalach," was recently produced and included on my album. It was an honor to be able to use his vocals on it as well. Even though I only knew him until I was three years old when he passed away, creating music helps me feel a connection to him and allows me to keep his legacy alive.
How do you balance your music, traveling for performances and life as a college student?
I have discovered that when something is truly important to you, you will find a way to balance your time effectively. For me, music and my studies at Lander College for Men are both priorities and passions, so I am able to manage my time efficiently to pursue both. The great thing about performing is that it often only occurs on weekends, which doesn't conflict with my daily schedule at school.
What are you studying in college? Why did you choose that field?
I am currently pursuing a degree in psychology at Lander College with the ultimate goal of assisting individuals on their journey toward mental well-being and healing. I have chosen to study psychology since my passion for music intersects with the field. The field of psychology has a lot in common with music, such as the emotional regulation and therapeutic effects of music, the activation of different areas of the brain, the use of music as a tool for self-expression, and the role of music in cognitive and emotional development. I believe that by utilizing my passions for music and psychology, I will be able to help individuals to become the best versions of themselves.
What is your ultimate career goal? Will music play a role in your professional life?
Music is a fundamental part of my life and will always be an integral part of my professional pursuits. My ultimate goal is to combine my passion for psychology and music by working as a school psychologist during the day, helping students with their mental well-being, and having a private practice in the evening. I hope to pursue a doctorate in psychology, with a PsyD, once I complete my undergraduate studies at Lander. Additionally, I also intend to dedicate time to creating new music and continuing to perform and bring joy to others through song. With a proper schedule, I plan to balance my time between assisting others through mental health counseling and pursuing my creative endeavors through music and performance, creating art that will also help bring comfort to others. Above all, I would like to continue my learning with daily Torah study, while I work toward achieving my career and professional goals.
How is your experience at Lander College for Men helping shape your future?
My experience at Lander College for Men has been instrumental in shaping my future in a number of ways. First, the rebbeim and staff have been incredibly impactful in imparting fundamental religious values, and a source of guidance and inspiration in my personal and spiritual growth. The connections I have built with the rebbeim and other students during my college years will last a lifetime. I am truly blessed to have the opportunity to be a part of Rav Yosef Sonnenschein's shiur, where he imparts his wisdom and knowledge in such a way that not only teaches us the material, but also inspires us to strive for greater understanding and growth.
The staff at Lander has been outstanding in their career guidance by offering opportunities for internships and Jodi Smolen, the career services director, has been instrumental in helping me navigate my career path. All in all, Lander College for Men has provided me with a well-rounded education, both academically and personally, that will serve as a foundation for my future. The guidance and support provided by the Rebbeim, staff, and college community have helped me to become the person I am today and will continue to guide my future.