Alum Spotlight: Ben Tabaria on His Nursing Career
Lander College for Men Alum on What it's Like to be a Nurse Anesthetist, the Rewards and Challenges of His Chosen Profession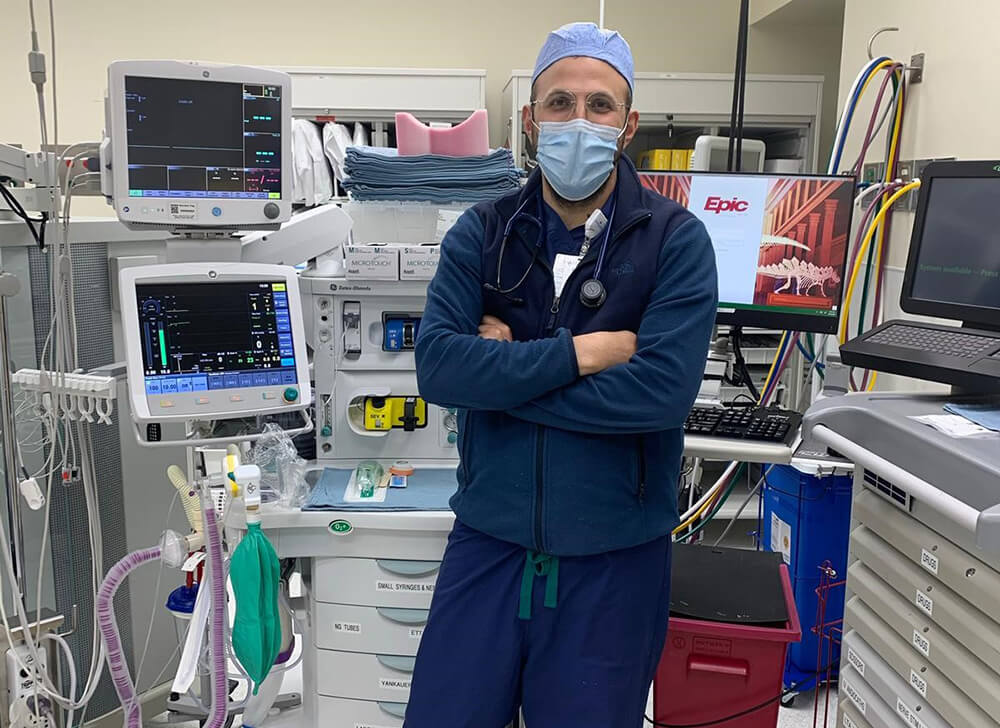 Ben Tabaria on the job
Ben Tabaria, LCM 2010, certified registered nurse anesthetist at Baylor Scott White Hospital in Irving, Texas, shares his passion for helping surgical patients and how he balances his career with Torah study.
What made you choose your career path?
First and foremost, I wanted to help people. I thought about med school, but decided against it because of the immense time commitment. I went to nursing school along with a friend from Lander College for Men. After graduation, I worked for a short while and then decided to do an advanced degree in anesthesia after shadowing some people. I like being in control of everything related to the patient. I also love that I'm only taking care of a single person at a time. I decide which medications to give. I put in the breathing tubes and IVs, invasive lines. I run the anesthetic in the room. I induce, maintain and help the patients emerge from general anesthesia. I am the one who decides whether general anesthesia is safe or not in specific cases and who comes up with alternative routes of providing pain relief.
Can you describe a day in your life on the job?
I wake up very early, before dawn. I study Jewish Law daily with my brother on my way to the hospital. Once I get to the hospital, I do the anesthesia for many different cases. I meet many patients and try to alleviate anxiety about their procedures and health issues and make surgery an easy experience. If necessary, I talk with the patients for longer periods of time to make them feel comfortable. I explain in detail what I will do so they are aware of the process and feel prepared. I also give them some medications to relieve anxiety. I treat my patients like friends and play their music of choice before they go into the operating room.
What do you like most about being a nurse anesthetist?
As a certified registered nurse anesthetist (CRNA), I feel like I have a unique ability to influence how a patient approaches any surgery or procedure. I love that I get to focus all my energies on one patient at a time for a brief part of the day.

What do you find most challenging about your career path?
Finding time to learn Torah. Schedules can vary in my job, based on when surgeries are taking place, and I am always looking for the best opportunity to allow for learning and study of Torah.

How did your Touro education propel your career?
My Rebbeim at Beis Medrash L'Talmud helped me grow my love for Torah. There were many life lessons that I learned even in the Beis Medrash, when I would approach the rebbeim to speak to them at their tables. I would also say that when Professor Danishefsky pulled out a Rambam in his intro class to biology, it was an amazing first experience in learning the sciences.

How did the pandemic change your daily routine/the way you do your job?
Thankfully I was fortunate that my job was not really impacted by the pandemic. Many of my classmates had their contracts put on hold but I was still brought on board, thank G-d. We had to initiate protocols regarding how to take care of COVID patients but we established those and implemented the same process each day.