Beloved Maintenance Man at LCM Receives Life-Changing Dental Treatment
How Lander College for Men (LCM) and Touro College of Dental Medicine (TCDM) Teamed Up to Assist a Janitor in Need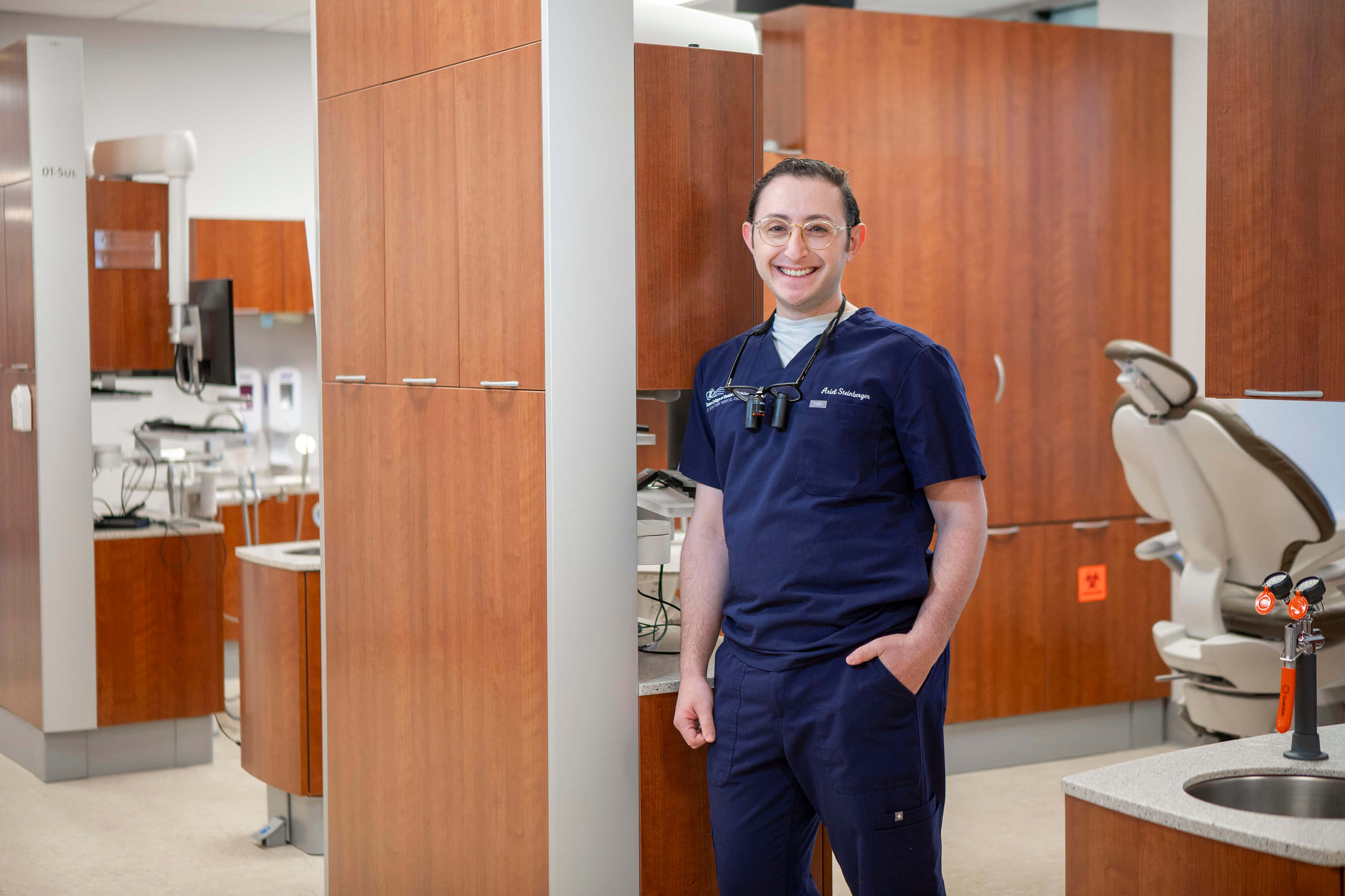 LCM alum and current TCDM fourth-year student Ariel Steinberger discusses an unforgettable experience where he helped someone in need.
Everyone who has attended Lander College for Men in the past 10 years knows Alfredo. He's the maintenance guy with a quirky sense of humor and a lifetime of stories. He finds time throughout the day to speak to guys in the elevator, the coffee room and the library, often sharing sage advice about prioritizing the important things in life.
I had a pretty good relationship with Alfredo when I was at Lander. It was a running joke between us that if I got into dental school, I would take care of his teeth. It was no secret that Alfredo had dental issues. He was missing a lot of teeth which affected his confidence and made him look much older.
Fast forward a couple of years. I was entering my third year at Touro College of Dental Medicine and our brand-new clinic was offering a "Friends and Family Promotion." Alfredo was one of the first people I contacted. I told him about the promotion and said, "It's your time now, let's make this happen!" Ariel Kopitnikoff, dean of students at Lander, was instrumental in facilitating this endeavor. He pushed Alfredo to take advantage of this opportunity, he allowed him to take time off in order to make the appointments, paid for his transportation home from the dental school, and even offered to pay for the entire treatment.
Not surprisingly, Alfredo's case was complicated. He was missing many teeth and the few that were remaining were not salvageable. Additionally, he had large bony growths in his mouth that would make a denture very uncomfortable to wear. It was clear that an expensive surgery would be required to remove the growths if we were to proceed with the treatment. I went to speak to Dr. Edward Farkas, vice dean of the dental school. To my surprise, after hearing Alfredo's story he said that they would not only waive the fee, but offer Alfredo to be the recipient of a special grant that would provide implants to support a fixed prosthesis instead of a traditional denture. This was a procedure that otherwise would cost tens of thousands of dollars.
Alfredo was blown away when he heard the news. We scheduled the surgery and removed the growths along with his remaining diseased teeth. Since I live in Queens, I picked up Alfredo from Lander College to take him to each of his appointments. Together with my amazing faculty, we designed a set of dentures that revitalized his sunken face and gave him a smile he could be proud of. Alfredo has told me about how the guys at Lander have reacted to his transformation, saying "No! Alfredo has teeth?! Did you see Alfredo's teeth?!" To me, these types of cases are a humbling reminder of the amazing opportunity dentists have in improving their patients self-esteem and overall quality of life.
Although the job is not yet finished, Alfredo told me what we have done has changed everything for him. After living without teeth for the past 10 years, Alfredo says he is thrilled to be able to eat normally and "hasn't stopped smiling since. I'm also much better looking!" It's heartwarming to see the appreciation Alfredo has for Touro. "You guys have done a remarkable job," he said. "The staff and doctors at Touro Dental are so friendly. It's a wonderful environment that I can't even describe. I thank G-d every day that I met all of you."