LCM Student Chosen for Prestigious Internship
Summer Internship Program Provides Early Field Experience for Future Dentist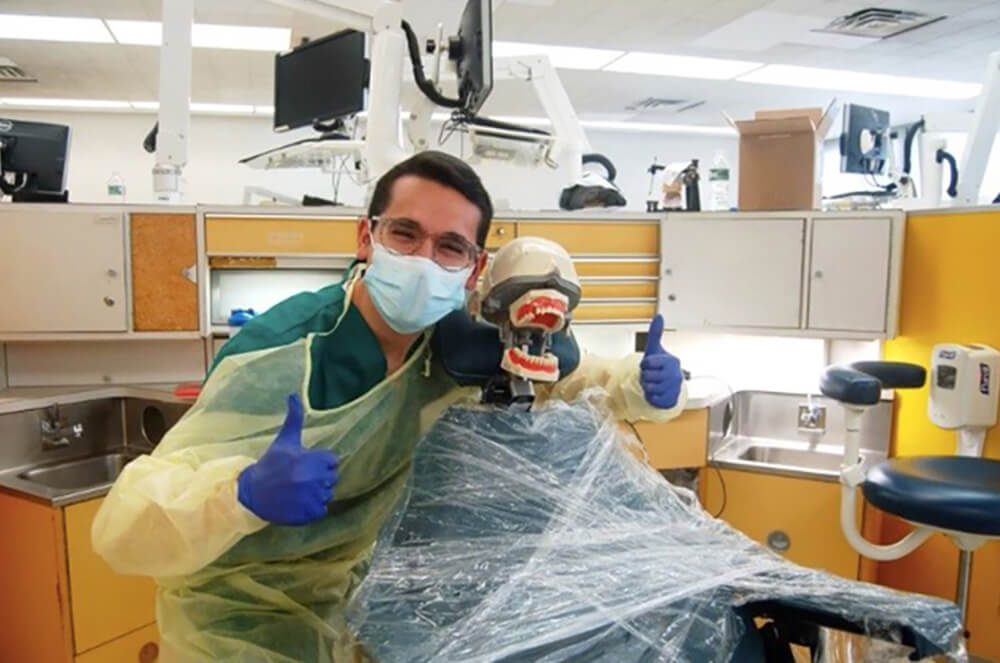 Mendy Antelis, during his internship at Rutgers School of Dental Medicine.
Mendy Antelis from Touro's Lander College for Men was offered a coveted spot in the highly competitive "Gateway to Dentistry" internship program at Rutgers School of Dental Medicine this summer. Chosen from among thousands of applicants, Antelis talks about his incredible experience and how Touro helped ensure he was well-prepared.
Can you talk about your experience this summer?
The internship at Rutgers Dental School was great for multiple reasons, but it was especially nice because we were given the opportunity to have hands-on experience in the pre-clinic labs. We drilled model teeth, performed a wax-up, a root canal, took molds, and made our own teeth models of the upper (maxillary) and lower (mandibular) teeth. It also gave us the opportunity to meet with current dental students and discuss any concerns we had about dentistry.
Following the internship, I studied for my Dental Admissions Test (DAT) and took my DAT in mid-July. After having a stressful year in school, it's nice to relax and unwind!
How did your time at Touro help you prepare?
I believe Touro truly offers the most enriching curriculum in biology, and professors really give us their time. Dr. Shinnar's General Chemistry and Organic Chemistry courses, Dr. Danishefsky's biology courses, and Dr. Babayan's courses prepared me for the challenging road ahead of me. Dr. Shinnar was patient and helped me to revise my resume until it was perfect. Lastly, the rigorous schedule that Touro/Lander College for Men offers primed me to work hard and take pride in my work.
Can you share a bit about how you secured the internship? Any advice for other students?
After speaking with Touro graduates currently in various dental schools, there was a clear message that I needed to apply to the "Gateway to Dentistry" internship at Rutgers School of Dental Medicine. The application process went smoothly but getting accepted was the hard part. People from all over the country apply for this internship and are even willing to fly in to attend. Therefore, that made it a very competitive internship to land. Students from schools such as Princeton University, Brooklyn College, Louisiana College, University of Arizona, and many more apply for this program. The only thing that separated me from the rest, was my guidance from top-notch Touro faculty and I am thankful for that.
I have two pieces of advice to offer future or current students. First, it is so important to build a real connection with the faculty at Touro/Lander College for Men because they will help you and make sure you reach your goals. They truly care about you and your ultimate success. Second, speak to the graduates from Touro/Lander College for Men. Their advice is priceless and should be taken into consideration.
What are you doing next?
I have applied to several dental schools with hopes to attend school in September 2022. I plan to finish college in January and then learn for the remainder of the year. In addition to my learning, I plan on shadowing more dentists to gain more experience in the dental field.